Arpa Doppia
In early literature in Italy we find a reference in the 2nd half of the 15th century to a "Arpa Dobla". In Spain Henestrosa (1510-1550) and Bermudo (1510-1565) have explaining chromatic harps. We do not have any surviveing instrument from that time. Two early surviveing harps we find in Italy from about 1580 -1600. Original "Arpa de dos Ordenes" fom Spain are from 1650 and later. The Italian Arpa Doppia is having two rows of strings with parallel stringing. The Spain harp is having cross stringing.
offered is a small Arpa Doppia d3-G, 2 copys from Italian Arpa Doppia as well as one in tall version. A Spanish Harp from an Original in Avila, and the Martin Kaiser Doppia from Brussels.
New: Arpa Doppia "Cecilia"
After iconographic studies in renaissance-style-deco.
In both rows middle c.
Height 122/140 cm
Range d3-F/d3-C
Weight 3,8/4,3 kg
Wood Maple
Pitch 440 Hz oder 466 Hz
Arpa di Laura Este / Arpa Estense
Alfonso II. d'Este, duke from Ferarra ordered a Chromatic "Burgundy-Harp" from an Instrumentmaker in Rome. There is a harp-dokumentation fom the deliverytime till now, but this harp is not signed. G.B. Jakometti (arround 1550 till after 1603) is attribute, was the maker. Laura Peverara(1550-1601), singer and harpist, did her debut together with her famous Ladys-Ensemble "Concerto delle Dame", at the court of Ferarra. She played this harp. Later the duke gave the harp for paint and goldgilding to G.Marescotti (1585-1589). 1591 a rich goldgilded akanthusdecoration was made for that harp by G.B. Rosselli. The "Arpa di Laura Este" is one of the musictreasures in Italy. The harp now is in the Galeria Estense in Modena.
We offer the Este-Harp in different versions, we changed the discantmensure longer for clearer sound, also the stringholesetting is changed for more comfortable playing. You also can get the harp in its original construction-details as a copy.
The instrument is having a wonderfull soft, warm sound. The soundbox is is carved from the block by hand.
Version 1
: Simple, few decorated without coloring.
Version 2
: Pomegranatared coloured, like basiscolour of original, or other colour like honeyanthic, decorated, polish.
Version 3
: Coloured, decorated, polish and goldgited, optional with akkanthusdeco and golden crown, also figural goldgilting of soundbox possible.
Height 150cm
Strings 56 Gut
Range C-d3, Eb-b2
Weight 4,9 kg
Wood Maple
Pitch 440 Hz
MP3


Video Este Doppia A. Gross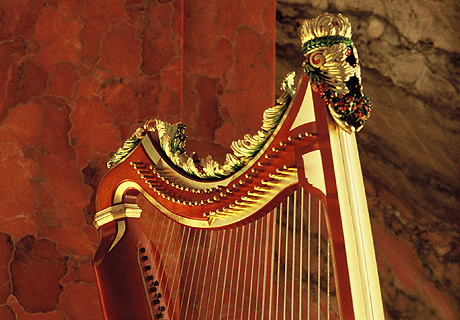 Bologna Doppia
The harp is in the Museo Civico Medivale in Bologna, dated to 1580-1600. There are not any more informations from that harp. The harp is not very tall with 49 strings. The volumn soundbox is having very nice carved arabesque-sounholes. The Instrument in the past was coloured in red pomegranata. The instrument might have used in pitch 466 Hz in F, reference Mara Galassi.
The Bolognia Doppia offered in two Versions.
Version 1 original height with 49 strings.
Version 2, 150 cm height, 50 strings, optional colored in pomegranata-red/honeyanthic or natural. The soundbax of both harps is carved from the block in two half pieces by hand.
Version 1: Original "Bolona Doppia"
Height 128 cm
Strings 49 Gut or PVF
Range C-c3, Eb-b2
Weight 3,9 kg
Wood Maple
Pitch 440 or 466Hz
Option simple/color polished




Video Bolognia Doppia
Version 2: " Bologna Doppia Grande"
Height 150 cm
Strings 50 Gut
Range C-d3/ Eb-b2
Weight 4,7 kg
Wood Maple
Pitch 440 Hz
Option simple/color polished


MP3 1




CD Véronique Musson-Gonneaud
Arpa de dos Ordenes
from Pere Elias,Barcelona 1704, Museum Provincial Avila
Height 146 cm
Strings 47 Gut
Range C-c3/Eb-b3
Marttinus Kaiser
Venedig 1675 (Musikinstrumentenmuseum Brüssel)
Height 150 cm
Strings 53 Gut
Range C-d3
Wood Maple Zypress